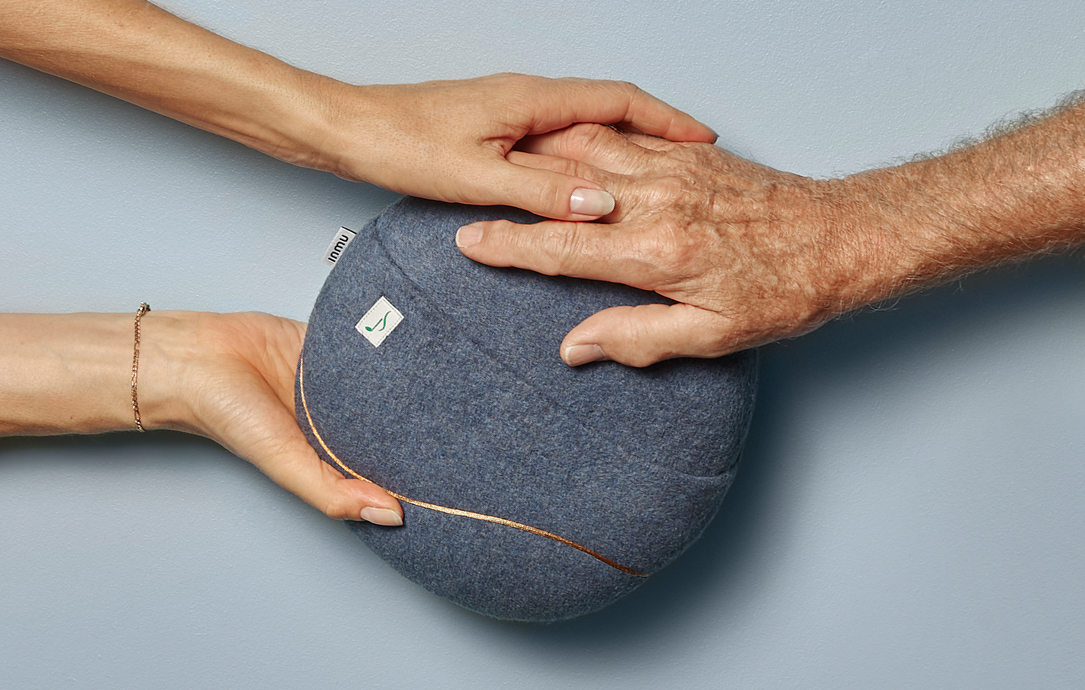 TAKE A MOMENT – BECAUSE MOMENTS MATTER
We encourage you to take a moment. A moment to connect, to relax, to interact, to remember, to enjoy, or to recover. That's why we have developed the inmu that embodies the wonders of interactive music, modern technology, soft vibration, and tactile stimulation – because moments matter. Our core values are simplicity, dignity, and safety. These are the guiding principles in everything we do – from interaction with others to design and product development. inmu brings moments of peace and joy to people who need it. To some it is a new companion and to others a professional tool.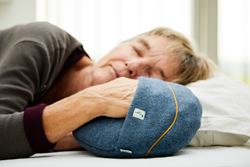 INTUITIVE
The inmu is user-friendly. No instruction is needed. Just pick it up and it wakes up – put it down and it stops.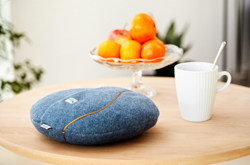 DANISH DESIGN
From the very beginning the design experience has been a key component in developing the inmu. Our core values come alive in its inviting, tactile and beautiful design – suitable for any home.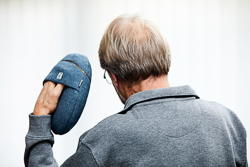 MUSIC
Ever changing – the inmu mirrors your touch and movement as the sound of a brook, constantly changing.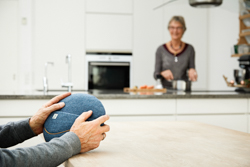 TECHNOLOGY
Intuitive and wise – the advanced technology of the inmu transforms your movements and touch into sensory stimulation.
THE INMU WORLD
We have made two inmu versions.
One is for relaxing, calm moments, where you are in control of your thoughts. From getting to sleep, to just finding your center.
The other brings rhythm and life to the moment, back into those old legs that still remembers the dances of your youth.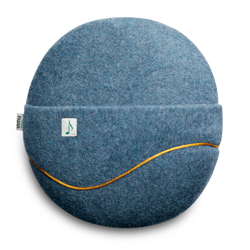 inmuRELAX
There are days where you need a moment of relaxation and calmness, simply be able to control your breath and thoughts. The inmuRELAX helps regain your inner balance during day-time or find peaceful sleep at night.
The shape and soft fabric create comfort while holding it. The gentle tones and pleasant vibrations have a relaxing and soothing effect on the body and provide a feeling of closeness and safety. It has a pocket that makes it easy to hold on to – even for disabled people. There are no buttons, just touch it and it starts to play and interact with you.
inmuDANCE
Other days can be full of restless energy that wants to be released. The inmuDANCE translates touch and movement into soft vibration and tactile stimulation.
It promotes movement, happiness, and pleasure through a rhythmically music universe inspired by the 1960s and the energetic bossa nova. A rubber band attached on the back makes it easy to hold on to. There are no buttons, just touch it and it starts to play and interact with you.
WE CARE ABOUT YOUR MOMENT
We have developed the inmu to help people. And when we hear how your moments improve with the inmu, we couldn't be prouder – and we want to share them with you.
Have a story to share yourself? We would love to hear from you. Your stories are what makes it all worthwhile!

Josephine
Pain is hard enough to deal with without not being able to sleep. Josephine finds peace of mind, in moments where the thoughts are usually spinning out of control. The inmu helped her calm the thoughts, and find herself in those moments.
Because Josephine is hard of hearing, she can lie on her pillow. We suggest holding it to your chest if you're not.
Nanna
Hallucinations were a day-to-day part of Nanna's life. Lack of sleep didn't help at all. The inmu, using vibrations and music, helped Nanna keep track of her thoughts. Finding her way back to reality, centering her – without the use of sleeping pills and downers.
Not all stories needs to be told through words.
Often, the ones without, are the most powerful.
These are some of the stories from the people who cannot tell their story using their own words.
Bent, Annelise and Viggo all suffer from late-stage dementia.
Bent
Bent struggles with falling asleep. He feels unease. The thoughts are racing. He is restless. The inmu helps Bent fall asleep. Sometimes in just 15 minutes.
Annelise
She has lost her language, and most of her day is spent sleeping. The inmu helped bring back the smile that still tells so many stories of a life well lived.
Viggo
Frustration and anger is a big part of Viggo after the dementia hit. The inmu helped bring back the smile and joy that Viggo's wife always knew was still there.
NEWS
A lot is happening in our inmu world. Check out the latest news below!
We are so proud: the inmu has been nominated for the START-UP CHALLENGE 2019 at ALTENFPLEGE 2019 in Nuremberg as one of the 28 most exciting new products for elderly care. Come and visit us at the AVENEO area in hall 8. Read more here ALTENPFLEGE takes place from 02...
Marts 26th and 27th , we will be in our stall at Naidex in Birmingham. Make sure to come by, take an inmu moment, and have a chat with our people. You can find us here: Stand number N11052.
ReHaCare was a great success for inmu. Not only did we get featured, as one of the few, in a video interview (which you can see below). We were also picked to be one of the 'Most Interesting Products' on the fair - featured in the special selection newsletter. Click...
OUR OWN STORY
We love your stories, and we don't mind sharing our own. This is how inmu came to be, and all that we hope to achieve.
DESIGN AWARDS
We are lucky, because we've just been awarded with the German Design Award 2019. Click below to learn more.
STUDIES
We know the inmu works, because we have had it tested again and again. Click below to read more about the studies.
GET IN TOUCH
Looking to learn more about the inmu or want to share a moment? No problem. Click below. We'd love to talk to you.