Tranquility, safety and joy for people with dementia
A haven of peace in everyday life with dementia
Are you related to someone with dementia – or do you work with people with dementia? Then you know that it can be difficult to create a feeling of comfort, safety, peace and joy in a daily life often characterized by turmoil, frustration and confusion.
inmuRELAX – Peace and tranquility
The soft tones and vibrations have a relaxing and soothing effect on the body and provide a feeling of closeness and safety. The pocket makes it easy to hold, even for weak people.
inmuDANCE – Rhythm and movement
inmuDANCE encourages movement and joy with a rhythmic musical universe inspired by the energetic bossa nova of the 1960s. The music develops and intensifies with the level of movement. An elastic waistband makes it easy to hold. The many colours and textures of the cover are exciting to touch and examine.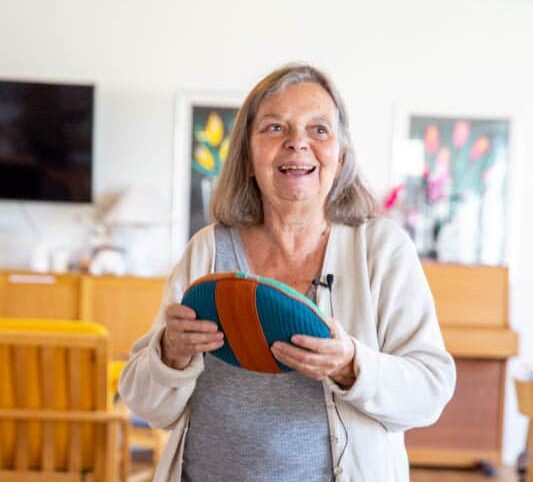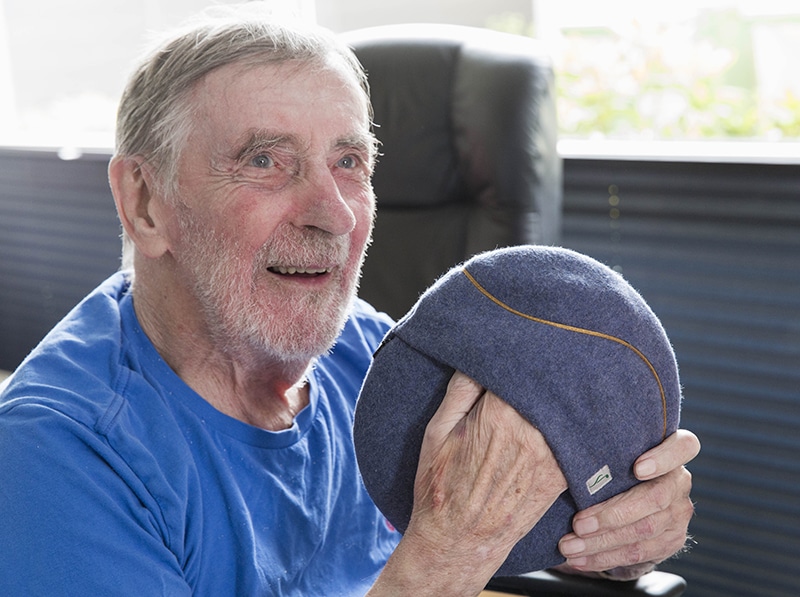 "I have for a long time not been able to get in contact with my mom. But when I give her the inmuRELAX, she'll open her eyes and I can feel that contact being restored. We'll hold the inmu together, and I can see and feel that she relaxes."
The eyes come alive and smiles on the lips
Sensory stimulation and interaction increase the quality of life. The inmu offer an interactive musical universe influenced by your touch and movement. Combined with the textile cover and vibrations, it creates a unique sensory experience. The sensory cushion can be used when you are alone, but can also be used as a beautiful and dignified link for a warm company.
Advanced technology in flexible packaging
inmuRELAX has no cumbersome buttons, settings or updates – so it can be used by anyone. The music starts when the cushion is touched and slowly calms down when the cushion is still.
Expert in sensory stimulation Charlotte Voetmann shares her experience with sensory stimulation to help, for example, people suffering from dementia for better well-being in their everyday lives.
Charlotte Voetmann is one of Denmark's leading experts in sensory stimulation, Snoezelen (MSE) and neuropedagogical methods. She has worked with and taught sensory stimulation for many years in relation to dementia and other cognitive disorders.
Find out how inmu brings peace and comfort to everyday life with dementia
How valuable sensory stimulation can be for people with dementia is shown in this video from Summerset Group Holdings...